Donate to Nederland Area S

eniors

here

today!

SENIOR LUNCH
          *Please, note we won't be serving lunch on November 23rd or 30th
Only two lunch dates in December
December 7th – Holiday Storytelling!  Salmon with Avocado Mango Salsa, Coconut Rice, Stir Fried Asian Vegetables, Pineapple, Thanksgiving dessert!
December 14th – Last lunch of the year!  Turkey w/ Stuffing,  Mashed Potatoes & Gravy, Mixed Vegetables, Cranberries, Special dessert!
*Nutritional information here
________________________________________________________________________________________________________________________________
SERVICES AVAILABLE
Foot Care with Nurse Debbie Neal: Serves mountain older adults with toenail/skin care and a review of foot concerns. By appointment in downtown Nederland, $30 fee 303-258-7768
Meal Delivery Program for Homebound Older Mountain Residents
We are committed to our meal programs, and continue to deliver meals to seniors in the mountain community. If you or someone you know is 60 years or older, is unable to attend our weekly congregate meals and would benefit from home-delivered nutrition meals, please email andrea@mountainpeaklife.org or call MPL office: 303-258-0799 for eligibility criteria and scheduling.
More meal delivery resources here.
Do you Need Medical Equipment? The Holistic Homestead provides mountain residents with FREE medical equipment, including grab-bars, mobility devices and back supports. To request FREE medical equipment call 303-582-3001 or visit: www.theholistichomestead.org
COVID-19Vaccines & boosters will be available at the Nederland Community Center on specific dates.  Please, call  303-258-9721 for more information. Order free at-home tests to be delivered to your home: https://www.covid.gov/tests
VIA Mobility Service and Mountain Rides
Serving and transporting people living with mobility limitations, and their families.  
Starting November 2022, MOUNTAIN RIDES will provide you with transportation to take you to any destination in the service area. This will be a shared-ride service where schedules will be made daily to meet the needs of our mountain community.  To sign up call Call 1-888-647-9768 or 303-447-2848 or go to www.viacolorado.org.  For further information or help with registrations contact: 
Betty Abel, Mountain Transportation Coordinator at 720-514-9633 or p2pvia@gmail.com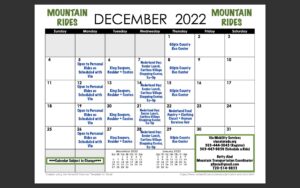 _____________________________________________________________________________________________
*IMPORTANT: Senior Lunch temporarily served only on specific dates 
We want to let you know that due to staff issues we are serving our Senior Lunch on specific dates, which we will communicate on this website and social media.
While we understand this unexpected situation is not ideal, please rest assured that we are working diligently to get lunch service operations and activities back up and running.  If you are experiencing food insecurity, please call us at 303.258.0799 or email us at andrea@mountainpeaklife.org.  Please, note that our delivery program recipients are not affected by this, as they will still receive their meals on Monday or Wednesday.
We look forward to resuming service as soon as we are able, and we appreciate your understanding and patience during this time!