**30 Day Food Boxes Available**
Welcome to the organization serving active older mountain adults! Mountain Peak Life connects community and builds friendships with social meals, outings and fun activities. We invite couples and singles of all ages living in the mountains along the Peak to Peak Highway 72 to join us for dinner, breakfast, brunch, hiking, pickleball, fitness, skiing, dancing, live music, books, writing, games, and more. Check out our calendar for event details.
We welcome all participants' input about what specific outings you would like us to plan and a small amount of your energy to help make them happen for everyone. We need you, our friends we love to get together with, to help keep our group lively. Please call us at 303-258-0799 to volunteer with our lively programs and activities planning group. Let's plan together all the fun times we can share.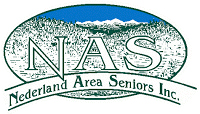 January Menu Walk In welcome.  First Come is First Served. Email: MountainPeakLife.NAS@gmail.com Phone: 303-258-0799 Mondays and Wednesdays, 12 pm at the Nederland Community Center Free to anyone 60 years + $5 contributions suggested. Guest under 60: $12 Day  Date  Lunch Description Wed 01/05 Smoked Chicken, BBQ Beans, Potato Salad, Wheat Roll & Fruit Mon
Read More »